Skip to end of metadata
Go to start of metadata
Beginning in October 2022, Clarkson University began to deploy BizHub printers which offer "FindMe" printing and "ScanToMe" options on most printers.  
In this joint project with the Office of Information Technology and the Financial Office, the BizHub FindMe printer solution reduces paper and ink costs, and lowers support costs in the following ways:
Reduce Waste:

 

Have you ever sent a print job and then changed your mind but it was too late and the job already printed? (Yes, we know this happens.) With BizHub's

 

FindMe

 

printing, those wasted print jobs are eliminated.
Lower Print Costs:  These new units will reduce the University's cost to print by approximately 40%. It is much less expensive to run these large, centralized units than it is to support desktop inkjet or laser printers.
Lower Support Costs:

 

The use of these smart devices allows centralized oversight of connections and maintenance making it possible for support teams to monitor printing performance across campus. 
In addition to lowering costs, the BizHub solution offers these additional benefits:
More Equitable, Accessible Experience:

 

All BizHub devices are equipped to print both black and white and color. This increases the availability of color printing, making printing more convenient and accessible. 
Confidential Printing: With BizHub's

 

FindMe

 

printing, concerns about sending sensitive or confidential information to an unsecured location go away. Individuals are there to receive their print job at the time it is printed.
Scan to Me: With BizHub's "Scan to Me" option, you will be able to quickly scan documents and have them sent directly to your email inbox without the need to enter your email address or select your name from a directory.  Want to send your scan to someone else?  No problem, you can manually enter an email address as needed. 
Project Scope:
New BizHub Printers with

 

FindMe

 

services will replace all Xerox devices currently located in administrative offices and public computing spaces on the Potsdam campus (see Locations list below).
SymQuest and Clarkson technicians will be on the Potsdam campus installing new devices in October 2022.  Removal of the older Xerox devices is TBD.
Onsite demonstrations and training will be provided to students, staff, and faculty.
How
 

FindMe

 

Printing works: 
From university-owned computers,

From your device, choose Print.
For Destination, select from drop down menu:

Find-me in Color, or
Find-me in Black & White

From personal devices

Open a browner and go to go.clarkson.edu/print
Follow the instructions for Wireless Printing (web print)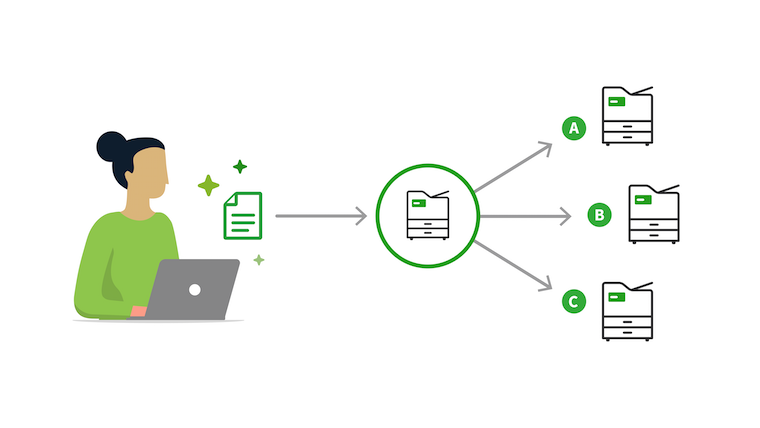 3. Select desired options, then Print.
4. Bring your Clarkson ID card* with you, at the printer swipe your ID, select the print jobs on the touchscreen you want, and the complete print.
* Note: Older Clarkson ID Cards without bar code technology will need to be updated. To update, contact Campus Safety (315) 268-6666.
Potsdam Campus Printer Locations:
Locations with New BizHub Find Me Printing:
CAMP
Graham
Bertrand H Snell
CAMP 171A*
Graham 1st
Snell 165
CAMP 102
Graham 2nd
Snell 223
CAMP 156


Snell  239/241*
CAMP 220
Holcroft
Snell 265
CAMP 257
Holcroft 2nd


CAMP 350
Holcroft 3rd
Student Center




Student Center 120
Cheel
Price


Cheel Press Box
Price 1003
TAC
Cheel 200
Price 2210
TAC 115




TAC 122
Clarkson Hall
Rowley
TAC 2nd
CH 1000
Rowley 140


CH 1001


Woodstock Lodge
CH 1206
Science Center
WSL 100
CH 2202
SC 125




SC 170C


ERC
SC 269


ERC 1112
SC 319


ERC 1113
SC 357


ERC 1410




ERC 2305




ERC 2nd Floor near OIT Help Desk*


*Printers located in Public computer lab spaces
Overview
Content Tools
Activity